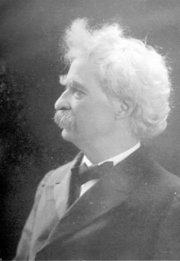 CC Audio Recordings >>
Samuel Langhorne Clemens (November 30, 1835 - April 21, 1910), better known by his pen name Mark Twain, was a famous and popular American humorist, novelist, writer and lecturer.
At his peak, he was probably the most popular American celebrity of his time. William Faulkner wrote he was "the first truly American writer, and all of us since are his heirs." Clemens maintained that the name "Mark Twain" came from his years on the riverboat, where two fathoms (12 ft, approximately 3.7 m) or "safe water" was measured on the sounding line, was marked by calling "mark twain". But it is often thought that the name actually came from his wilder days in the West, where he would buy two drinks and tell the bartender to "mark twain" on his tab. The true origin is unknown. In addition to Mark Twain, Clemens used the pseudonym "Sieur Louis de Conte".
Learn more >> wikipedia.org
Read more >> gutenberg.org
This article is licensed under the GNU Free Documentation License. It uses material from the http://en.wikipedia.org/wiki/Mark_twain article.