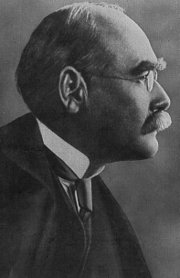 CC Audio Recordings >>
Joseph Rudyard Kipling (December 30, 1865 - January 18, 1936) was a British author and poet, born in India. He is best known for the children's story The Jungle Book (1894), the Indian spy novel Kim (1901), the poems "Gunga Din" (1892), "If— " (1895), and his many short stories.
For a time after his death, he was not popular in literary circles mostly because, he was perceived by many as an unashamed defender of Western imperialism, who coined the phrase "The White Man's Burden". In more recent times the lasting merit of his writing has outweighed his unpopular imperialism.
Learn more >> wikipedia.org
Read more >> gutenberg.org
This article is licensed under the GNU Free Documentation License. It uses material from the http://en.wikipedia.org/wiki/Rudyard_Kipling article.